Gardening is a passion for many people. Often, it is a hobby that they indulge in their free time, and for some, it becomes a career choice for them. However, in the last two years, a lot has changed. And so, people have found true value and meaning in indulging in what they like to do instead of wasting their time doing something they don't particularly enjoy.
This has given a fair share of rising to people taking up gardening, and what better way to do it than to have your very own garden. Depending on your home's dimensions, you can choose to have a kitchen garden, a small potted herb garden, or go big scale with a backyard garden. From there, you can start filling it up with your favorite plants, flowers, shrubs, climbers, etc.
So if you have a knack for gardening, you might know this already and agree with us on the fact that there seems to be a never-ending variety of sages. No matter where you turn or which plant you pick to include in your garden, it is one or the other type of sage. So it makes sense to wonder what exactly sage plants are and how you can grow a certain type.
But first!
Difference between Sage & Salvia
Many people often get confused between sages and salvias. So to put it clearly, once and for all, the difference between the two is that while all sages come under salvia, not all salvias are sages. In fact, salvia is a major plant genus that carries many other different plant varieties under it, from perennials to mints and other shrubs, etc.
Salvia is easily one of the largest plant genera and clearly stands above the rest of the plant species. So now that you know the difference between sage and salvia, it will be better for you to carry on with this guide and understand what we are referring to.
So put on your gardening gloves, and let's get started!
What is Sage?
As we mentioned above, sage purely lies under the salvia genus for the most part. However, it is essential to note here that some non-salvia plants are also referred to as "sage." To differentiate, they have often been named a "sagebrush" and belong to the Artemisia plant genus, making them a cousin to wormwood rather than herbs or mints.
In addition, sage plants can be perennials and annual with different types ranging from low-lying herbs to larger herbaceous plants and shrubs. Therefore, the size and dimensions of the sage plant range are also quite inclusive, just like the types of plants. They can be really compact or have the tendency to grow massive, reaching up to ten feet in length.
Types of Culinary Sage
The most common type of sage is definitely the green sage that comes to your mind when you think of it. It is so common that it is just majorly referred to as "common sage." It is bright green in color with a slightly velvety texture and is one of the most popular herbs grown easily by people in their gardens.
However, it would be unlike the nature of sage plants if we only had one type of culinary sage. So yes, you aren't just limited to common sage, and there is almost a collection of sage plants to treat your pallets with as a culinary enthusiast. Here are our top three favorite culinary sages. Add these to your garden and enjoy them freshly plucked and sprinkled on your favorite dishes:
Golden Sage: golden like its name, milder in taste compared to other sage types.
Pink Flower: this sage has pink flowers, giving it the name Rosea. It tastes citrusy.
Window Box: a sage variety that grows under a foot, making it great for a kitchen garden herb.
Types of Ornamental Sage
While sage comes across as an edible herb right from the get-go, there are so many types of sage plants that, naturally, there are inedible varieties of sage. However, that shouldn't mean that you only grow edible sage because you can consume it apart from adding plant diversity. Inedible sage plants have beautiful flowers. They are colorful and easy to grow.
If these aren't reasons enough, how about we tell you that these flower spikes will allow you to have many different colorful flowers in your garden – all in a single growth spurt? Yes, so you don't have to limit yourself to a single planting, one at a time. You can easily plant and take care of different types of sage plants that all grow to offer you multiple flowers.
Here are our top three favorite ornamental sage plants that add a lovely flowering variety:
Texas Ranger: a smaller, denser sage variety with blue-ish pink showy flowers.
Mexican Bush Sage: one of the most beautiful flowering plants that attract butterflies and hummingbirds.
Russian Sage: a blue-ish violet flowering charmer that can grow up to 4 feet in height.
Identifying Arizona Sage (Salvia Arizonica)
Arizona Sage or Salvia Arizonica is also a commonly grown ornamental sage type that is also commonly referred to as desert indigo sage or simply desert indigo. Identifying Arizona sage is quite easy because its flowers are distinguishably purple among the indented leaves. Moreover, the flowers tend to bloom in clusters closed together, making them look beautiful.
As the name suggests, it is native to Arizona. However, New Mexico and Texas have been home to the plant for a long time now. That's why it is easy to spot on dry elevated planes reaching 2000 to 3000 m in height like the Davis and Chisos Mountains of West Texas. It does well with drier soils contributing to its growth spurt, and so frequent raining is not one of its best friends.
Growing Arizona Sage
The robust Arizona sage plant is easy to grow as it propagates via underground seeds and runners. You can easily plant the seeds in containers indoors, but experts suggest planting them directly in garden beds for best growth. A good mix of soil, as long as it has good drainage keeping it moist, the Arizona sage plant will effectively grow.
That's why planting the Arizona sage can take a fair bit of preparation before you put in the seeds. You have to ensure that soil has up to 12 inches of depth with a 5.8-6.2 pH value. Light raking to level out the ground should help firm the base and give the seeds space to grow and expand. As it grows a stolon, you'll quickly notice a clump covering the ground.
Light
The Arizona sage loves a full sun for at least six hours a day. Therefore, while planting and growing your Salvia Arizonica, you have to ensure that the plant bed is in complete sunlight and not being shaded by a tree or other bigger plants. However, while direct sunlight is the best for the growth spurt, a partially shaded plant bed isn't as bad once the plant blooms flowers.
There might be days when the sunlight is too much for the plants and flowers, reaching for rapid induction. At other times, there will be a photoperiod giving you quicker flower blooms on cloudy days, even better than the long sunny ones. So unless the plant has established its foreground against extreme sun and wind, protection against these factors would be necessary.
Temperature
Arizona sage takes 6 to 11 USDA zones, with the best temperature going from 16 to 19°C. As good airflow and wind are also essential, it is crucial to have enough space to regulate the wind flow and keep temperatures at a good level for the plant. Planning early for such a situation is crucial because it may become leggy once the plant starts to grow after dormancy.
Moreover, the Salvia Arizonica blooms during the spring season, all up to the autumn season with interrupted intervals. Therefore, you can have a change of temperature quite a few times during their growth spurt. However, don't worry if you feel the plant has become dormant. It is the sage plant's way of handling the change itself and will start growing shortly after.
Watering
Unlike other plants that just have to have richly moist soil, Arizona sage does great with drier elevated planes. It is even conducive to a drought environment with a high tolerance for water shortage. Therefore, overly moist soil and rainy weather shall not contribute to its growth. Instead, you have to maintain light watering, ensuring slightly moist soil during all its stages. With such average use of irrigation, you may think manual watering would do the trick. But an automatic draining system that keeps the water levels in control shall do wonders for it.
Fertilizer
The Salvia Arizonica isn't too determined toward rich soil. Therefore, they hardly ever work up and require fertilizers for a successful growth spurt. Lightly feeding the plant with balanced compost or fertilizer is a good idea if you are starting out in the early days of the spring season. As you notice a new growth spurt, keep the fertilizer maintained as sufficient. Moreover, it is essential to note that granular types of fertilizer can cause burn injury to the crown and foliage. So make sure your usage rate is slow to avoid the roots rotting.
Pruning
After successfully acknowledging a fall season growth spurt, you can now move forward with some pinching and trimming. This can greatly increase the regular growth factor that your plant adequately needs. This might be an added step, but the benefits are amazing, as it will give your plant a thicker form and even more flower spikes. However, it is vital to note here that trimming is not recommended during the spring season or even the plant which has grown in the spring. It can severely compromise your flowering yield.
Mulching
The Arizona Sage plant beds can be a welcoming ground for weeds in the growing season. But you have to ensure that your sage plant is getting all its needs fulfilled. This is because weeds tend to compete for space, water, and nutrients and will easily take all of this away from your sage plant, and you certainly don't want that. Therefore, one of the best ways to keep weeds at bay is by using a good quality mulch to prevent germinating seeds. It will also help in retaining the level of moisture for the soil as needed by the sage plant.
Pests & Diseases
The Arizona Sage can also have a bit of a pest and disease problem. One of the most common pest issues that the sage plant faces is a spider mite. Therefore, you have to make it a routine to inspect your sage plants for such pests closely. In addition to spider mites, there are also aphids, whiteflies, and other pests like greenhouse insects that can easily compromise your plant yield and quality. Moreover, disease like fungal foliar is also threatening to the plant and can lead to crown rots and botrytis that can weaken your sage plant from within.
Infographic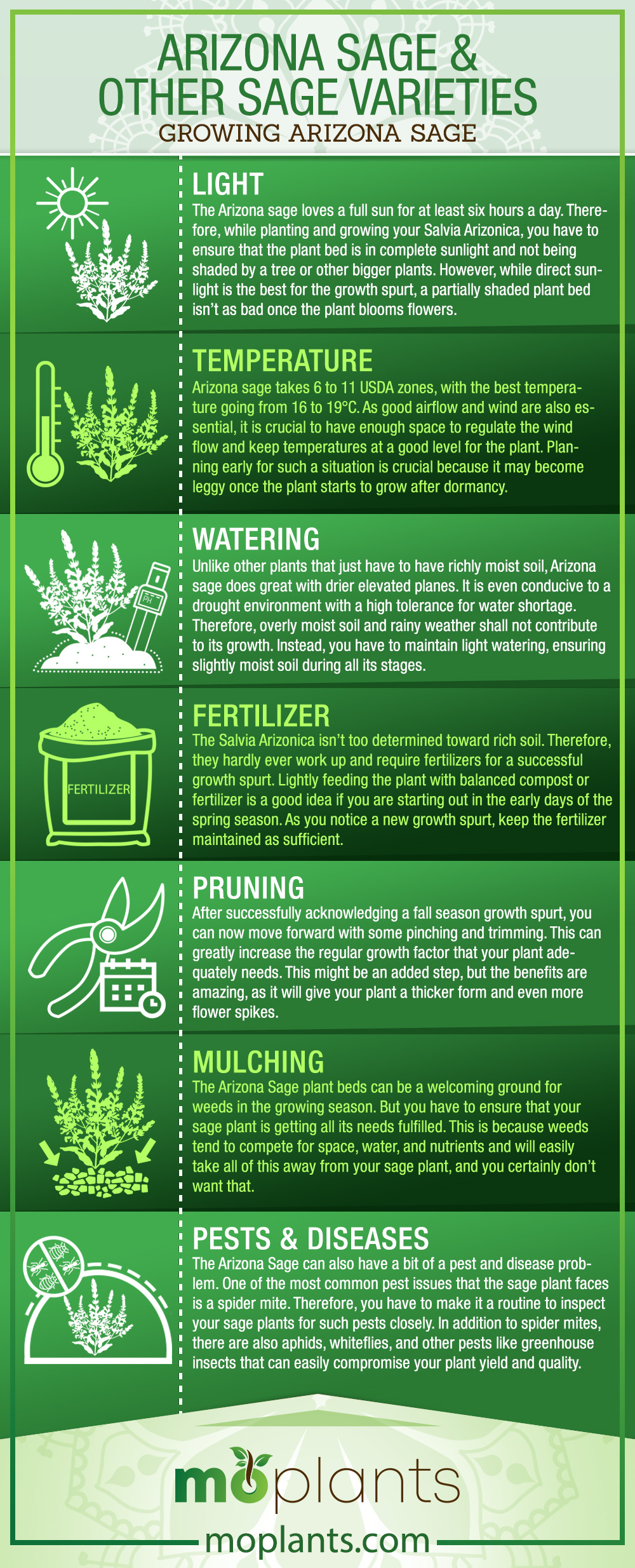 Arizona Sage Growing Tips
Here are a few tips that will help you have a successful growth spurt for your Arizona sage plant:
Keep the plant in sunlight during growth.
Protect from sunlight after the flowers bloom.
Maintain the moisture of the soil.
Avoid heavy rainfall or manual water irrigation.
Don't fret too much about using fertilizer.
Drier soil is an excellent contributing factor.
Try mulching to avoid weeds, rots, and pests.
Wrap Up
The Arizona Sage plant might not be edible and have little revering demands here and there. However, once you get the hang of it, it is one of the best flowering plants to include in your backyard garden. Especially if you live in and western regions of Texas, where there is drier soil and lesser chances of frequent rain, Salvia Arizonica might be the ultimate planting for you.
Are you interested in reading more about such plant growth and educational guides? Then connect with us at Mo Plants – your one-stop gardening directory for more gardening know-how. Our comprehensive guides will be an excellent resource for reading more about other plants, vegetables, herbs, and fruits to expand your home garden into a colorful sanctuary.
Happy planting!