Nutsedge can drive you nuts. Also known as nut grass, the weed plant can be challenging to control due to its intricate root system.
Without proper lawn care and treatment, expect root tubers and nutlets to continue harming the soil, plants, and grass.
Luckily, this article will give you valuable tips and tricks on how to get rid of nutsedge. Are you interested to know what these are? Continue reading to find out the required steps.
Step 1: Choose a Post-Emergent Herbicide
Post-emergent herbicides will ultimately dictate how successful you are in keeping the grass safe from nutsedge. [R] So pick wisely.
These weed killers prevent nutsedge growth after its initial bloom during the warm season.
However, you need to read the instructions and product label before choosing your post-emergent herbicide.
Some post-emergent herbicide products are compatible with yellow nutsedge, while others are applicable for purple nutsedge.
Just remember that not all herbicides are the same. It pays to review the label and specifications first to guarantee high-performance results for the lawn.
Step 2: Choose a Surfactant
The post-emergent herbicide is not complete without the surfactant. "What does it do?" you may ask.
Surfactants are in charge of making the post-emergent herbicides stick to the nutsedge plants' waxy portion, allowing better penetration of the weed ingredients. [R]
However, there are some conditions you need to consider.
For starters, some herbicides already contain a surfactant in their products. Furthermore, some brands do not require surfactants to meet the benefits of their post-emergent herbicides.
Therefore, make sure you have gone over the instructions to avoid damage to the soil surface, grass, and lawn. 
If you need more information, feel free to go over other articles to study the science of herbicides and weed control.
Step 3: Begin the Lawn Care Process
Step 3 is where the hard work begins. It's time to get down and dirty on your vegetable garden.
First, integrate both the post-emergent herbicide and surfactant in a handheld sprayer. Be sure to follow the product labels so that you get correct water-to-product measurements.
Please remember to wear protective clothing like gloves, long-sleeved shirts, and closed shoes when operating with the nutsedge killer.
We even suggest you equip a facemask to avoid inhaling chemicals brought about by these herbicides.  [R]
Also, do not mow the lawn before applying your chosen nutsedge and weed killer.
If you mow the grass right away, the emergent herbicide and its components may not fully penetrate towards the nutsedge plant's rhizomes and nutlets.
Herbicide application and grass mowing should have an interval of a few days for the best results.
Killing nutsedge will take time, so wait for about one to three weeks to determine whether you gained positive results.
Step 4: Apply Additional Treatment On A Year-Round Basis
A one-time treatment will not be enough to eliminate all the nutsedge weed in your lawn.
If you forget to kill the leftover nutgrass from the first treatment, chances are nutsedge and weed will return in the ensuing months.
These may result in long-term damage to the soil and surrounding plants. Indeed, it pays to provide your lawn the treatment it needs every year.
For the best results, contact the provider of your post-emergent herbicide to find out how often you should re-treat your yard.
Ongoing treatment will prevent nutlets, crabgrass, and nutsedge from paying a visit to your lawn in the following seasons to come.
Infographic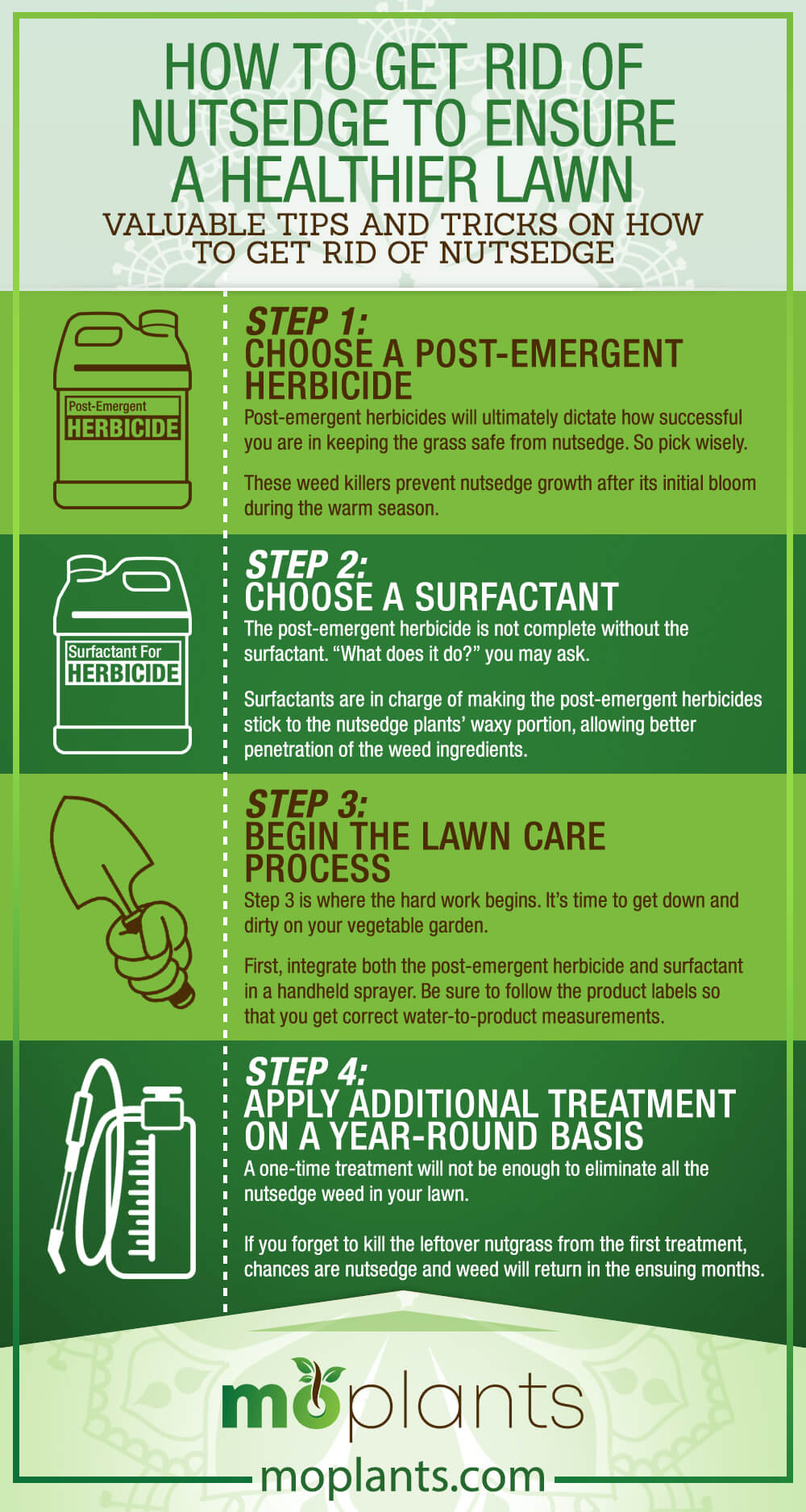 Alternative Ways to Get Rid of Nutsedge
"What if herbicides are not available in my area? Does this mean I'll have to deal with nutgrass and weed heckling my lawn forever?"
Fear not, for we have contingencies. If anything, these backup plans are as efficient and cost-effective as the conventional herbicide solution.
Please look at some of our additional tips and alternative recommendations to eliminate those annoying tubers and weeds.
Getting Rid of Nutsedge With Sugar
Want to control nutsedge weed while sweetening up the soil? Sugar has got you covered.
Not only does sugar eliminate unnecessary weeds and tubers, but it also provides the soil, plants, and roots with much-needed microbes and nutrients.
Here's the step-by-step procedure on how to properly kill nutsedge with sugar.
First, wet the lawn using a garden hose. It allows the grass to moisten so that it meets the full effects of sugar.
Next, put all your sugar in a sifter and walk around the lawn at a consistent pace. Doing these will enable even sugar distribution across the lawn.
Finally, gently spray the yard with a light mist so that the weeds and grass are still moistened and sugared.
For your information, the best time to apply sugar in your yard is during the springtime, a cool season.
A D.I.Y. (Do It Yourself) Herbicide
Why buy herbicides when you can make one at home? You heard that right. Combat those pesky weeds and rhizomes while saving more money.
When in doubt, go for vinegar solutions. It has a solid track record for withstanding poison ivy, so it does the job of eliminating nuts.
For the best results, use vinegar with 20 percent acetic acid concentration.
However, be careful when applying the vinegar-based herbicide. Make sure to target the nutgrass and not your plant.
Keep spraying on the nutsedge until it completely dies.
Indeed, nothing beats killing nutgrass with organic and natural ingredients. The best part is, you won't have to worry about inhaling or ingesting chemical components. 
Take Out Nutsedge With Your Bare Hands
If all else fails, you got your bare hands to do the work for you. The navigation process may be challenging, but the results will be rewarding.
Using the hand-pulling method, carefully take out the nutsedge weed away from the soil. Some grass types may require you to pull out the weeds' roots to eliminate bulbs and tubers.
Want an easier way of taking out nutsedge? Water the areas that have more tubers and weed to moisten up the soil. Use a garden hose to get full moisture.
Thanks to this tip, you will be able to remove the whole nutsedge plant.
What Is Nutsedge?
A nutsedge plant is the last thing you want on the lawn. Nutsedge may be disguised as grass, but in reality, it is not.
Rhizomes and tubers spread around the underground portion of the yard. It is because nutsedge grows faster in moist areas and cold-season grasses.
As a result, it forms bulb-shaped seeds and grass blades called nutlets.
What else can nutsedge do? It can form seeds above the soil surface, which speeds up nutsedge production and growth. 
How to Prevent Nutsedge Growth?
Nutsedge control can be difficult to control for 365 days. Therefore, you need to take preemptive measures in avoiding nutsedge development from taking place.
The best way to do this is by fixing both your irrigation and drainage system. Nutsedge thrives best in damp soil and puddles.
Weeds love to grow on soil with little to no nutrients. To avoid the spread of nutgrass, aerate the lawn at least once a year to replenish essential nutrients for the soil.
During the summertime, surround the lawn with grass seeds and fertilizers to avoid weed from sneaking into the underground areas.
For a balanced distribution, use either a sprinkler or garden hose.   
Conclusion
I hope you enjoyed going over some of the many ways to eliminate bulbs, tubers, and nutsedge weed. Regardless of what tips you decide to follow, the end goal remains the same.
May you trust us in our Have fun keeping the lawn safe and sound.
For more questions or inquiries, please feel free to contact us.