The garden is the legacy of two remarkable individuals, Patricia and Chester "Cactus Slim" Moorten. Both shared a love of the desert, its beauty, plants and wildlife. They are inextricably linked to the history and aesthetic of Palm Springs, the winter playground of Hollywood elite.
Nicknamed Slim for his tall lanky form and work as a contortionist, he was one of the original Keystone Cops. Slim became the stand in for Howard Hughes and played parts in many other movies over the years. Poor health led him to the desert in the 1930s with his young wife Patricia, a biologist with special interest in botany. Together they explored this desolate landscape and worked the Rainbow's End Gold Mine in the high desert. They began collecting desert plants, historic artifacts and minerals early on and sold them at their shop. It stood at that is now the Spa Hotel in downtown Palm Springs.
As the social milieu of Palm Springs grew in the 1940s, the Moortens became active landscapers, creating desert gardens around the homes of many of Hollywood's most famous names. Adept at moving very large boulders, Slim was known for engineering the outstanding naturalistic waterfalls and pools. They designed and installed landscapes for Frank Sinatra and were good friends of Walt Disney at his Smoke Tree Ranch nearby. They were consulted by Disney to help design the western theme of Frontierland at his new amusement park which would later become Disneyland.
The Moortens were also well traveled and packed up their only son Clark for trips down Baja California and into Mexico collecting plants as far south as Guatemala. These adventures were extensive and they became familiar not only with the plants but the indigenous people and local wildlife. Many rare plants in the Moorten Botanical Garden were collected on these trips.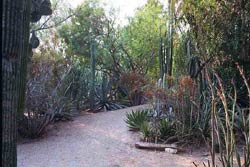 Clark Moorten is now the curator of this botanical wonderland. He is an expert in his own right and among the most knowledgable experts on succulent plants in America. He tends the garden and propagates many of its plants for sale and is there to greet visitors almost every day.
---
Moorten Botanical Garden is located at the south end of Palm Springs. Hours are 9:00 AM to 4:30 PM Monday through Saturday; 10:00 to 4:00 Sundays. The garden is closed on Wednesday.
Moorten Botanical Garden
1701 South Palm Canyon Drive
Palm Springs, CA 92264 (760) 327-6555
The premises may be rented for weddings and parties. Please call for price quote and information.