Privacy is something we must respect. You wouldn't want the neighbors taking a peek at your shenanigans.
Instead of going for a bland and dark privacy fence, why not electrify the home with eco-friendly trees, plants, and evergreens.
Let's familiarize ourselves with the best trees for privacy, shall we?
What Are the 9 Best Trees for Privacy?
With so many trees and shrubs, it may be hard to pinpoint the differences and advantages one tree has over the other.
Thankfully, we narrowed down our picks to help you and your fellow homeowners have an easier time making your choice.  Regardless of what tree you pick, do know that you are in good hands.
These trees offer respectable height and width dimensions that shield your home from natural disasters and disruptive neighbors. 
Leyland Cypress
Need tall trees to cover up the backyard? The Leyland Cypress does just that and then some.
For starters, these evergreens are considered fast-growing privacy trees because of their exponential development in height.
Measuring 50 feet in height and 10 feet in width, Leyland Cypress gives your yard much-needed tranquility from the hustle and bustle of city life.
If you plant these low-maintenance evergreen trees in 8 to 10-foot tall centers, you get reliable privacy screens that combat noise pollution, wind, and snow.
"How can I get these benefits all year round?" you may be asking.
For the Leyland Cypress to maintain a steady growth rate, expose them in full sun for 6 hours straight.
FUN FACT: The evergreen tree can be used as a fence for those living by the shore because of its high resistance to salt.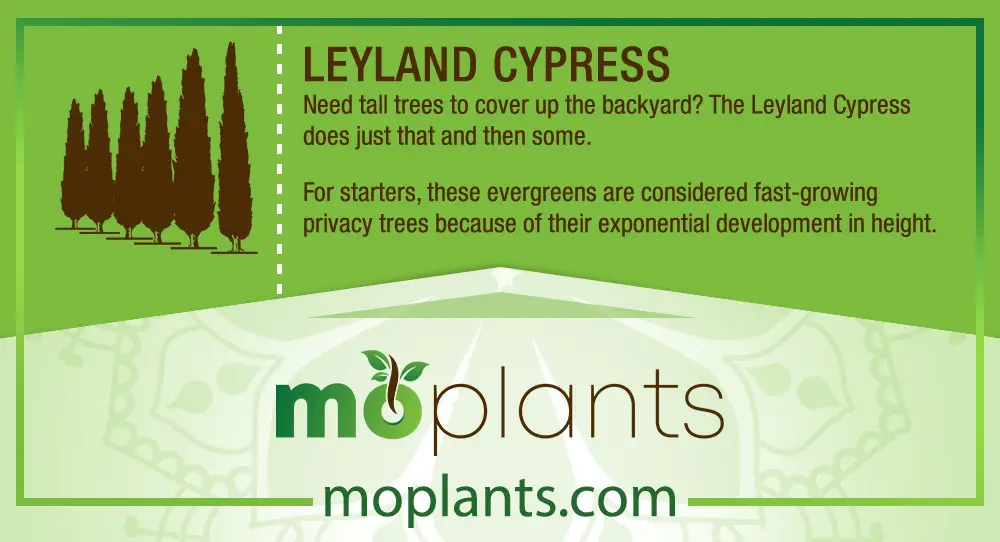 Eastern White Pine
Are you feeling overwhelmed that "Winter is Coming"? Why not try out the Eastern White Pine.
While the typical evergreen tree loses its green leaves from December to February, The White Pine plants withstand extreme winter conditions.
You heard that right. Winter pines remain intact in areas with temperatures of up to -40 degrees Fahrenheit.  
For the best results, set up the 60 feet tall and 30 feet wide plants in open spaces and massive landscapes.
By doing so, you maximize the allotted space and declutter the expansive view of the outside world.
If you are the photogenic type, their delicate leaves and straight branches make a good background for your next Instagram picture.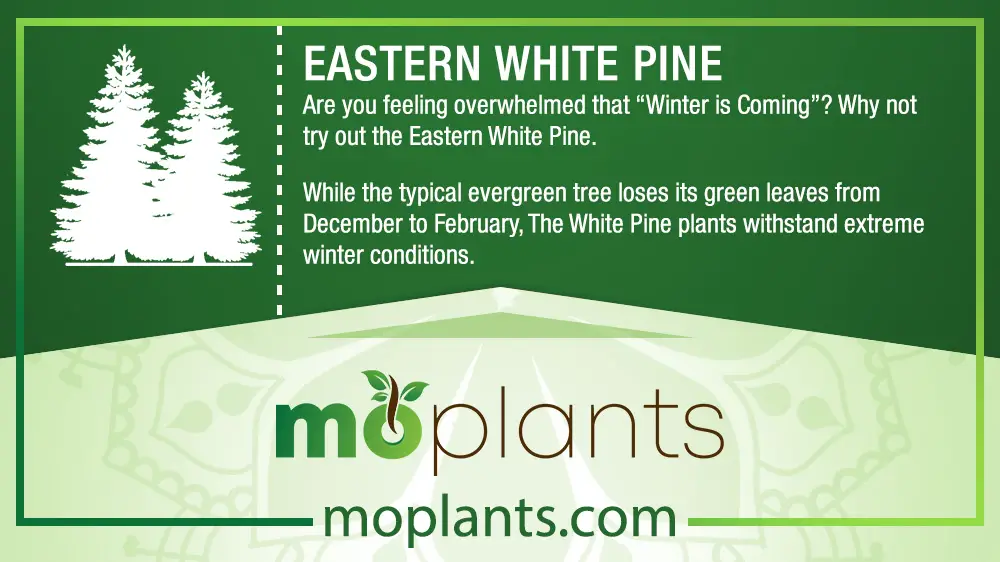 Concolor Fir
Need more suggestions to get your yard ready for the winter season? Enter the Concolor Fir, another prominent privacy tree.
One unique feature the tree has over its counterparts is its silver, blue, and deep green foliage. Expect a colorful and creative privacy screen should you go with the multicolored evergreen.
Similar to the winter pines, concolor firs are immune to -40 degree Fahrenheit conditions. I encourage you to stack up on these evergreens as soon as possible in time for the winter months. 
Unfortunately, the evergreen plant works best in cold areas only. So if you live in the tropics, I suggest you skip this part.
You also have to make sure the concolor firs are not exposed to city pollution and poor soil conditions. These may spell the difference between a tree that grows moderately or wilts.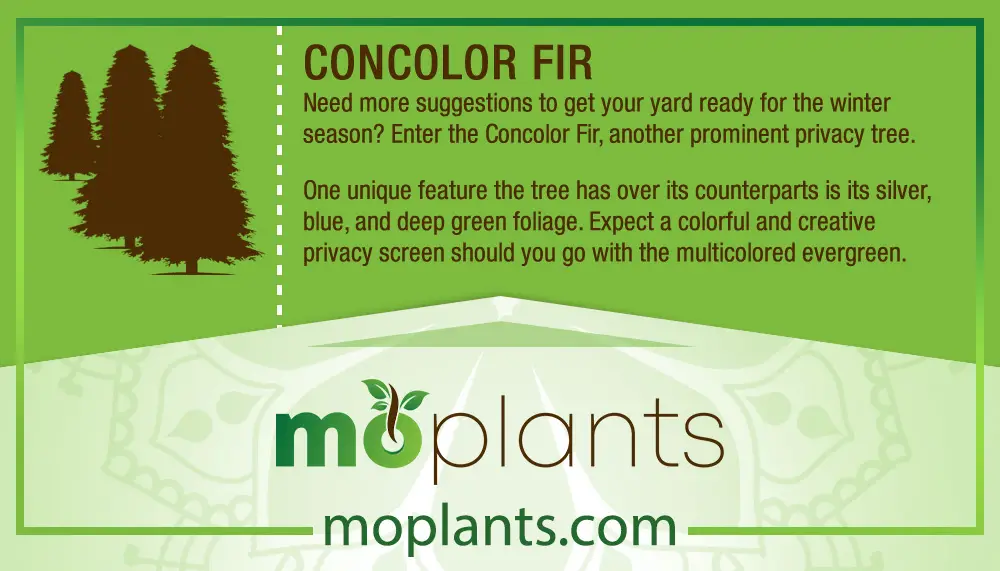 Green Giant Thuja (Arborvitae)
The Arborvitae Green Giant has your house fully covered from other property lines and rowdy neighbors. 
Indeed, the evergreen plant lives up to its name thanks to a massive height range of 30 to 40 feet.
Unlike other evergreens, the arborvitae offers maximum protection from varying weather patterns. It can survive the hottest summers and coldest winters.
You can also clump arborvitae leaves together to produce healthy green foliage. Planting them at around 5 to 6 feet in the center will result in a low-maintenance and functional living fence.
Just be sure to expose the Green Giant evergreens under the full sun for around 3 to 6 hours so that they grow at a mature height. 
Do you need a break from the dangling power lines and messy sidewalks?
What better way to end the day than coming home to Green Giant Arborvitae privacy screens, trees, and shrubs?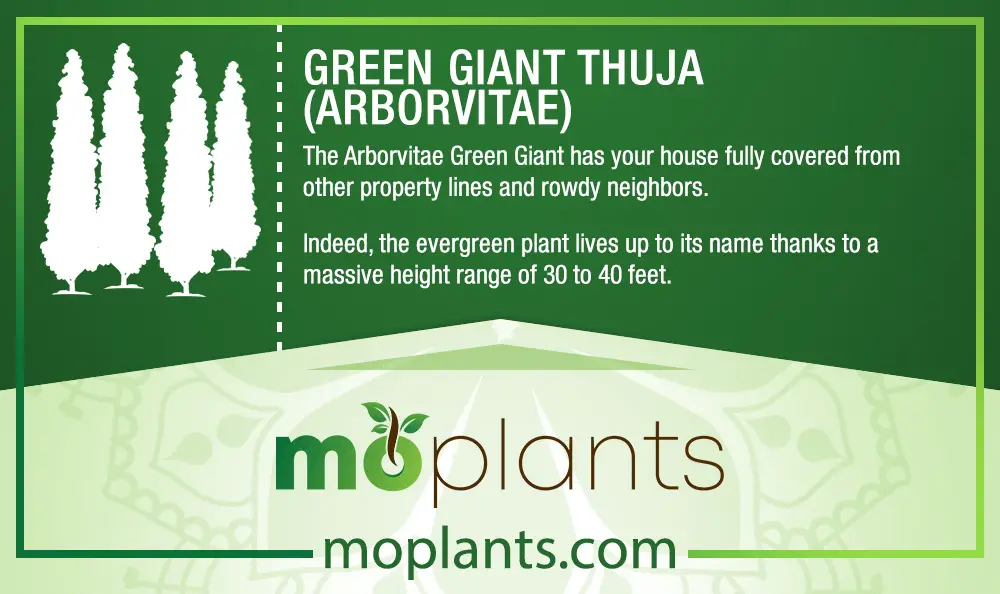 Japanese Cedar
Let's start with a fun fact. So you may be thinking that the Japanese Cedar is similar to other privacy trees in terms of features.
However, what if I told you that the East Asian plant lasts up to 600 years? That's six centuries of top-tier quality and resistance to extreme weather.
Dimensions-wise, it outdoes the rest. It boasts a superior height range of 50 to 70 feet and a moderate width of 20 feet. [R]
With these dimensions, Japanese cedar trees and shrubs guarantee the utmost protection and privacy for your yard.
To get the best results all year round, plant these evergreens in well-drained soil. Also, they operate better when given full sun exposure.
If you want your house to undergo a full Japanese makeover, I suggest placing the cedars in a screen or privacy fence made out of bamboo.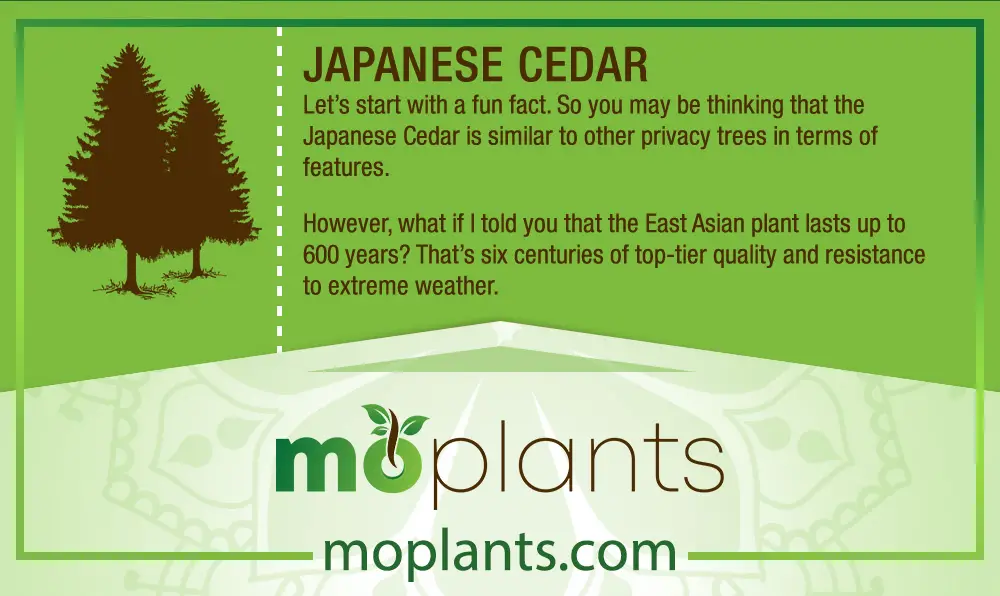 Sky Pencil Holly
As you continue reading the best trees for privacy, I am sure the primary concern you and most homeowners have is the amount of space trees and shrubs take up.
Luckily, the Sky Pencil Holly gives you a balance of maintaining your privacy while minimizing used up space.
The plant height ranges between 8 feet and 10 feet.  A 2-foot width ensures that the yard is not filled up with too many shrubs and foliage.
I know what you may be thinking. "These dimensions are the smallest among the featured privacy trees."
Despite the small height and width, Sky Pencil Hollies still deliver ample protection and support against strong winds, outside noise, and peeking eyeballs.
Therefore, you have nothing to worry about with regards to your privacy being invaded.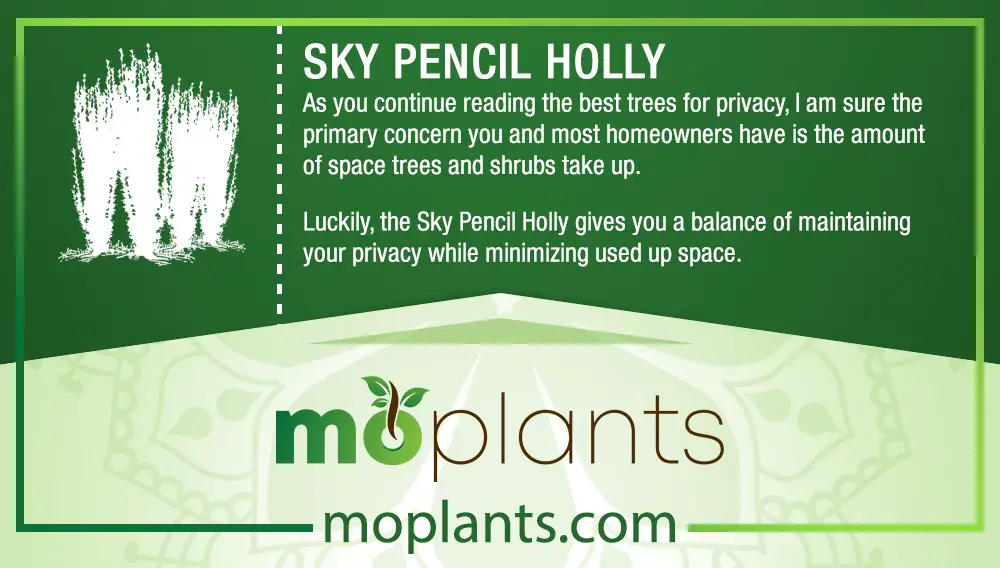 American Holly
The American Holly is a staple privacy tree among many households, backyards, and hardiness zones all across the US.
Missouri, Massachusetts, Florida, and Texas are some of the states that house the US native plant.
Once it reaches the final stages of maturity, it goes for 50 feet in height and 20 feet in width. That is equivalent to around 7 to 8 football fields.  
Besides being a premier privacy tree, it is also one of the best fruit trees. That is because red berries grow during the fall season.
While most trees and plants require full sun exposure, the American holly works best with minimal lighting.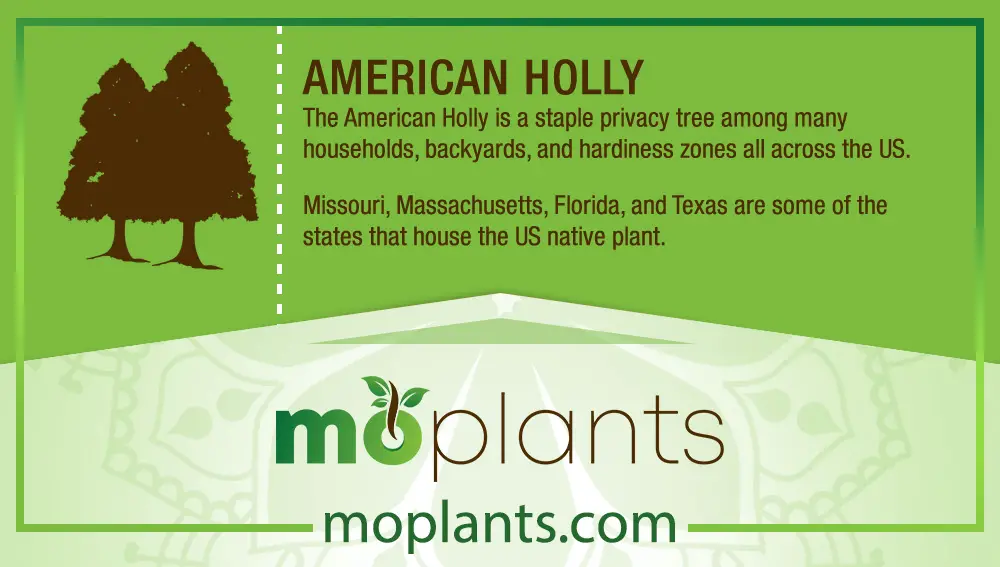 Weeping Podocarpus
Hailing from the California and Florida backyards, the Weeping Podocarpus is another popular choice among many homeowners and residents.
While most privacy screens have rough edges, this particular tree contains soft billowing foliage.
Therefore, you won't have to worry about getting scars and wounds for accidentally leaning on your privacy screen. 
These trees are most suitable for coastal areas due to their high salt tolerance. They can also withstand significant droughts and heatwaves.
For those living in scorching hot areas, this is the privacy tree for you.
For Weeping Podocarpus plants to survive all year round, fertilize these with granules thrice a year. Nothing more, nothing less.
It also pays to provide ample water supply in case dry spells or water shortages take place.
Goldspire Ginko
You can't go wrong with decorating the backyard with hints of gold. The Goldspire Ginko incorporates green and gold colors depending on the season.
On the one hand, green tones surround the trees during the summertime. However, once the fall season starts kicking in, expect gold leaves all over the privacy plant.
An advantage it has over its privacy tree counterparts is its ability to resist smog.
If the 14 to 16 feet tall plant can withstand a toxic version of fog, it can definitely handle unusual weather patterns and extreme conditions.
With proper exposure to sunlight and moderate watering of the tree, you have yourself a privacy screen that fits a medium-sized yard.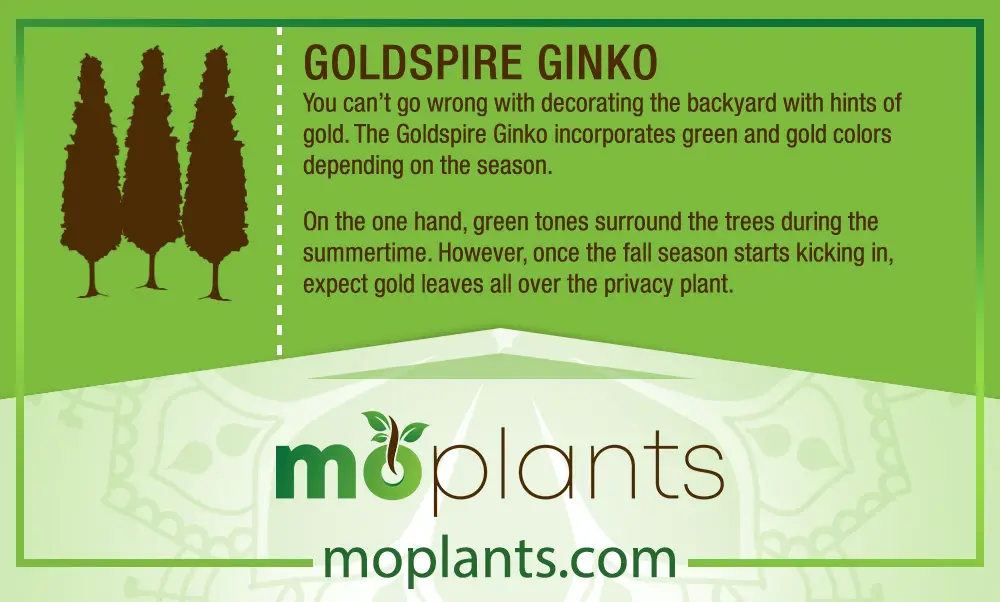 Infographic

What Are the Different Arrangements of the Best Trees for Privacy?
With so many privacy trees and plants at your full disposal, it can get tricky to find a proper plant arrangement for your backyard.
Fear not, for we will go over the different tree setups you can try out at home. Here are some ways you can arrange your plants and trees for a more vibrant privacy screen.
Same Plant Type
Want a minimalist backyard? If yes, you can try planting multiple trees of the same variation all over your garden.
The arrangement's consistency and uniformity will have a lot of eyes glued to your yard.
Unfortunately, the single plant type setup is the most high-maintenance and difficult to handle.
One underperforming tree may spell the difference between a good-looking fence and an uneven privacy screen. 
Using this arrangement will take up a lot of time for perfectionists because every tree has to be pruned and assembled evenly.
If you have the means to maintain the single tree setup, then go for it by all means. If not, we suggest that you continue reading for better alternatives.
Assorted Plantings
Another reliable option is mixing up the yard with multiple shrubs, plants, and trees.
Visually speaking, the combination of different plant varieties will catch most homeowners, guests, and neighbors' attention.
If you are craving a creative touch to the home, you should consider applying this arrangement method.
It is also easy to maintain in the long-run. You won't have to worry about differing plant sizes and required sunlight for each tree type.
In the single plant type, including a different tree variation feels like having a pimple on the face.
Simply put, they complement one another in terms of aesthetics and performance level.
What Are Some Tips for Planting Best Privacy Trees?
With many privacy tree varieties at your disposal, assembling the best privacy screen setup can be a daunting task.
Questions such as "Which trees should I choose?"; "What dimensions should I apply?"; and "How do I plant privacy trees?" may come to mind.
Fortunately, this part of the review tackles the different tips you can follow when setting up that privacy screen for your yard.
Diversify the Yard
The first tip is something I cannot stress enough. You need to make sure you supply your backyard with different plants and trees.
Sticking with one plant or tree variation may be detrimental for the garden. Why is that the case?
For example, you decide to fill up your privacy fence with Eastern White Pines only.
Sure, it gives you high-quality performance in terms of maintaining your privacy. However, that won't be the case anymore once the winter season comes to an end.
What if the backyard is full of Leyland Cypress? They may be great at blocking out noise pollution, but pests and worms may start creeping on the soil as time goes by.
In short, choose different plant varieties for a more enhanced and well-protected privacy fence. A range of 3-5 shrubs and plant varieties should do the trick. 
Space Out Your Trees and Plants
For you to maximize the benefits and advantages of each plant type, evenly space them out.
Although privacy plants and trees are supposed to produce natural privacy fences, clumping the plants may not allow everyone to have equal sun exposure.
As a result, fungi and bacteria develop due to the lack of sunlight and air ventilation.
What does this mean for your privacy screen? Simple. It will disintegrate and rot in the long run because the clumped plants transfer diseases to one another.
If you really are a fan of grouping the shrubs and trees altogether, organize these into groups of 3-5 layers.
Not only do you still get your much-needed privacy, but you allow each plant to receive equal sunlight and air circulation.
Take Note of Your Location's Weather Conditions
Not everyone lives in the same geographical location. What does this mean?
You may be living on a hot and tropical island, but your nearest relative might reside in winter-friendly places.
Therefore, it is essential to do prior research about the plants and trees you plan to buy.
You may like the Goldspire Ginko because of its aesthetics, but what if your country experiences summer all year round.
You won't be able to enjoy the gold leaves that emerge in other areas with a fall season.
Select Proper Dimensions
Not all houses are uniform in size. Some households have bigger backyards, while others not so much.
So before securing your privacy screen, be sure to have a grasp of your house's dimensions.
If you have a medium-sized backyard, a 20-30 feet tall and 10-15 feet wide screen should be enough.
You also have to take into account the fact that you are living with other neighbors and homeowners.
I am sure your neighborhood has specific community guidelines and zoning rules to follow. As a good neighbor, choose plants that preserve your privacy and satisfy property ordinances.
Ask Feedback From Other Neighbors, Homeowners, and Experts
When in doubt, it pays to seek help from others. We all do not have definitive answers to everything, and that's totally fine.
This is why asking for other people's experiences won't hurt at all.
Although one's plant choice may differ from another, getting mixed reviews and personal anecdotes from neighbors can go a long way.
Of course, getting scientific facts helps a lot. The more data you have, the better. 
Doing your research and asking for input from experts give you essential information like growth rate, seasonal changes, tree dimensions, plant behaviors, etc.
Think Long-term
During the selection process, always have a long-term approach. Remember that you are looking for the best trees that will keep your house safe and secure for years to come.
Due to the unpredictability of time, you cannot predict storms, natural disasters, and intruders.
Therefore, it should be your top priority to guard the home with stable, well-rounded, and environmentally-friendly plants.
If anything, not only do you keep your privacy sacred, but you also do your part in our long-term goal of saving the environment.
That's not a bad way to make both ends meet.
Conclusion
I hope you enjoyed going over the best trees for privacy. Regardless of what you choose, these fast-growing plants and evergreens guarantee maximum protection for your backyard. 
I also entrust that you have thoroughly gone over the different guidelines and conditions of setting up your privacy screen.
We may have laid out all the facts, tips, and tricks, but it's still your choice at the end of the day. May you pick plants and trees that satisfy your personal preference and household needs.
For more information and inquiries, please feel free to contact us.