It's the color of a moonless night, of tuxedos and famous little cocktail dresses.  But it's never before been considered a color for tulips.  Maybe that's what makes them so appealing – it's something fabulously elegant to cut and bring indoors for a most unique and special accent.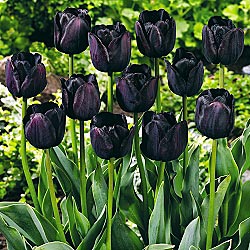 Brecks 'Nearly Black' is actually a very, very dark purple.
In the garden grow your blacks against a suitable background so they aren't lost in shadows.  Plant them against light colored walls or variegated plants.  For black to really stand out they need to be in full sun.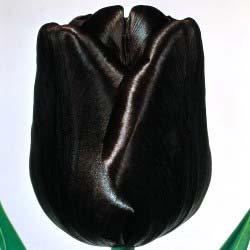 Brecks Queen of the Night is an extraordinary black tulip.
Combine black tulips with white or pale yellow tulips to create high contrast that makes the black stand out.  You can interplant in a checkerboard of light and dark, or plant in swaths of color that swirl around each other in exotic fluid shapes.  
Fall is right around the corner so it's time to start thinking about your bulb orders. If you want to grow black tulips as cut flowers, you'll need a lot of bulbs.   Since black is the hottest color in gardening these days, and because you aren't likely to find them locally, it's wise to order in quantity early.  These are all available at Brecks online catalog – in our Cool Links. Place your order early to ensure supply doesn't run out, but the bulbs won't ship until fall.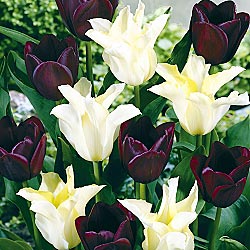 Brecks "Black and White" tulip mix offers perfectly matched light and dark flowers.