One of the great things about being in media is access.  This year it was a private tour of the best Dutch gardens featuring virtually every bulb known to man in full bloom.  But we didn't just see Keukenof the greatest bulb extravaganza in the world, our visits were to small lesser known sites, many of them residential.  I found a plethora of new ideas which I'll share with you over the coming weeks.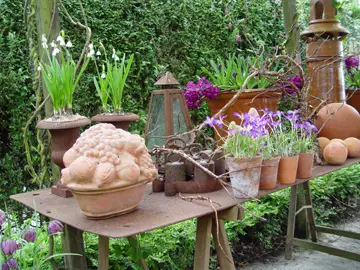 A table made of a slab of salvaged steel plating on sawhorses displays urns of snowdrops and terra cotta filled with gorgeous purple crocus.
One garden was actually a very deep backyard created by a woman who ran a small garden shop and nursery in her home.  This is unusual to find such an operation in a residential district but thankfully the locals let her do it.  Like most of Holland the site was immaculate with not a leaf out of place nor a weed in sight.   
The garden owner is enchanted by cool colors of blue and purple, so she created a most unique combination of pots and plants.  This table featured metal containers planted with succulents and other unusual foliage along with a few spectacular accents.
I think what probably caught my attention about this long display of foliage and flowers is the cool color palette.  But we've all been trained that all cool is just too dull and needs an occasional red or yellow to bring it up in temperature.  Somehow despite the lack of such contrasting spots of bright hue this works by creating incredible diversity in an amazingly small space without being overwhelming.