Gardens. The best place in your home to unwind and take a breather.
At the peak of their beauty, gardens can quickly feel like a vacation, especially under the sun. You can imagine the colors of your plants under the tree, beneath the warm sun.
Today, we're here to give you all the facts you need to know about plants for late afternoon sun. We'll tell you what plants are best for the late afternoon sun, where to put them, and how to plant them.
Get your tools ready, and let's start!
What You Need
Before we get started with the gardening process, let's prepare all the materials you need.
Doing so makes sure you can plant effectively and efficiently, ensuring the success of our project.
We'll discuss this section in two parts: the best sun plants to choose and the materials you'll need.
Afternoon Sun Plants
Unknown to many, there's a great selection of afternoon plants to choose from.
You'll have a ton of choices, and it won't be easy. But once it blooms, and after getting enough water, heat, and sunlight, the flowers and leaves look amazing and beautiful.
Here are examples of afternoon plants you can choose from:
Icelandic Poppy
Ornamental Sage
Stonecrop
Yarrow
Perennials: Dwarf Mexican Petunia, Daylilies, Speedwell
Infographic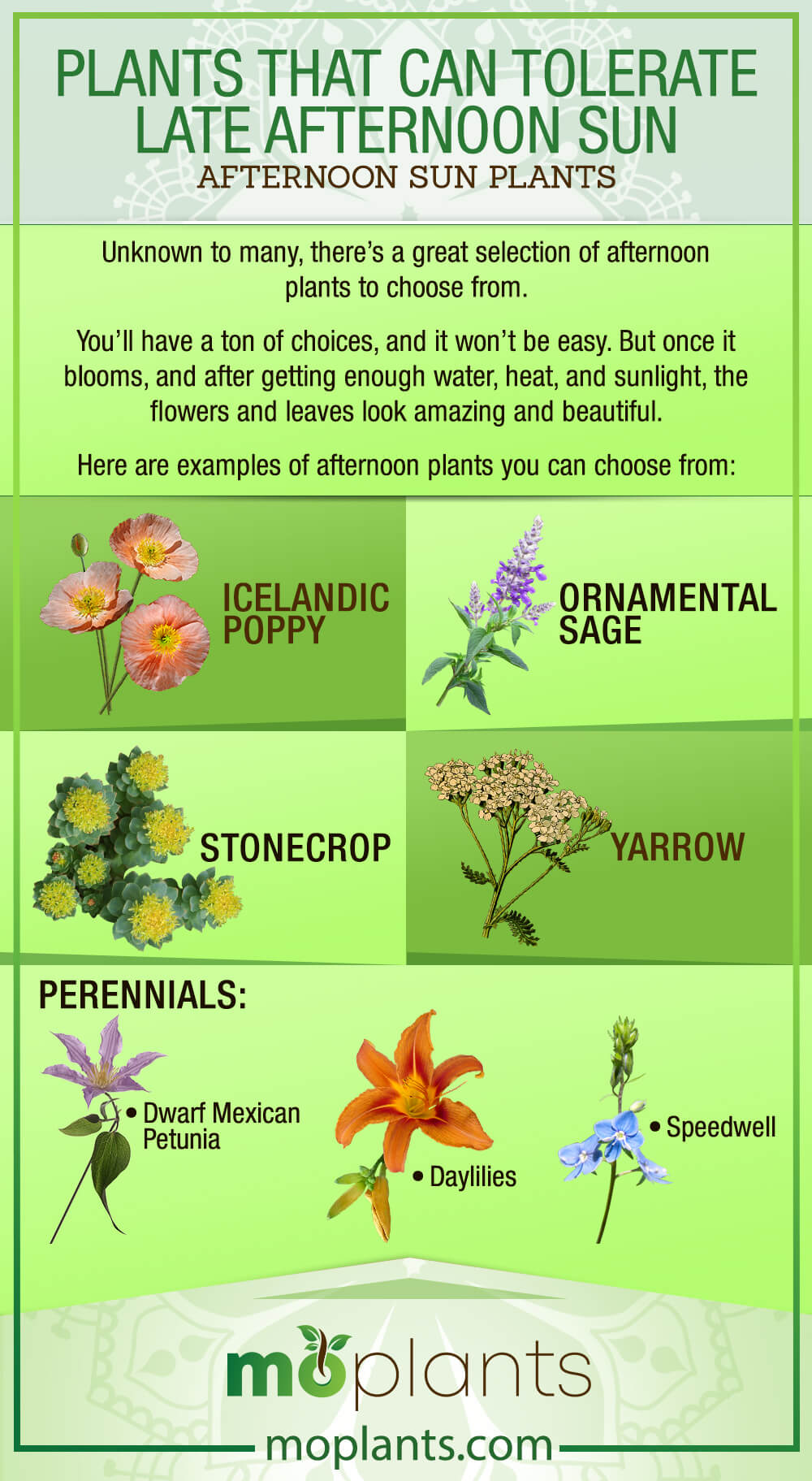 Materials Necessary
Here are the materials you'll need. Don't worry because we're sure you probably already have them in your tool shed!
Gardening gloves;
Spade;
Water hose or water can;
Rake;
Shovel
Seeds of late afternoon plants of your choice
Designing Your Flower Bed
It's the moment you've been waiting for! It's time to get started and finally plant the seeds in your garden.
Like everything that breathes life, plants need your TLC. Although not to the extent of giving them full sun throughout the day of this type of plants.
And in doing so, you need to have a landscape design to make your plant grow properly.
Find the Perfect Spot and Plant!
Unfortunately, you can't place perennials and other afternoon plants just about anywhere in the garden. Most especially not under direct sun.
The process requires much thought and consideration like: Where does the morning sun rise? Where does the full sun hit the most? And how much water does the plant need?
Observe your garden and check the areas where the afternoon sunlight hits the most, and mark it. You can even include the sites which receive a lot of shade or partial shade. NOTE: Remember, you don't want to choose a location where sunlight is direct and where the heat is high. You'll compromise the life of your perennials and their leaves.
Make a plan of how you want your garden to look like. Take advantage of the colorful flowers and design where you want to put certain plants. As long as you choose plants perfect for the late afternoon sun, you've got nothing to worry about.
Now that you have a plan in mind, it's time to prepare the actual planting process area. It's time to prepare the site and clean the soil of any debris.
Water the soil with enough amount to keep the soil moist.
Using a spade, dig a one-inch hole on the ground where you want to plant the seed. Cover up this hole right after. Do the same for others, and you should be good.
After Care Tips and Suggestions
Now that you're done planting the seeds, it's time for you to sit back and wait for your garden to flourish.
Do note that finding the best location for your plants can be a challenge. You might need to go through several trials and errors, but the wait is very well worth it after seeing your plant.
Nonetheless, we'll leave you with some tips and suggestions to ensure your gardening project's success.
Choose plants that are perfect for the late sun or fit to be under a partial shade area. You can also choose drought-tolerant plants that also thrive in the same zone in your garden.
Find the best zone for your plants. Typically, areas that provide the most amount of shade and least direct sunlight are the best. Make sure that the plants are also compatible with the conditions of your garden.
Water the area to keep the soil moist before you plant. You want to keep the seeds secure in the soil. Also, make sure not to dump all the seeds in one zone to avoid overcrowding.
Conclusion
Now that you have some of the best plants for late afternoon sun, it's time to head out to your garden and get started!
No doubt, your garden will be soon filled with the beautiful and colorful blooms of your flower. You can marvel at your success and have a beautiful yard landscape to keep forever.
If you have any questions about plants for late afternoon sun, feel free to drop them in the comment section below. We'd be more than happy to answer them for you.
And if you enjoyed this review, feel free to like and share this article with your friends and family. Who knows? You might help them save their garden.