Salt (Scientific name: sodium chloride) usually serves as a condiment to improve food taste. It can even be a natural remedy for sore throat and other illnesses.
Although sodium chloride brings many positives, the same cannot be said when you expose it to your garden—more on that in a second.
Luckily, this article will expound on the importance of grasses' salt tolerance and what you can do to reduce damaged plants and soil. 
Why Do Grasses Need to be Salt Tolerant?
Salt tolerance is a skill every garden must possess. It can get annoying to handle huge portions of road salt due to poor irrigation and other uncontrollable factors.
Furthermore, a high salinity level may reduce and repel various plant nutrients. [R]
Salt also reduces the soil's moisture because it quickly evaporates water. As a result, buildup on the soil and root zone directly alters seed development and plant growth.
Low salinity tolerance on roadsides may lead to toxic soil, causing some grass types and plants to wilt. 
What Are the Different Varieties of Salt Damage?
You need to identify the types of damage and their differences from one another.
Understanding the varieties will help you determine what salt-tolerant plants to purchase for your lawn.
Salt Spray
Let's start with salt spray. What makes it contagious for your plants?
The spray uses the help of the wind and fast drivers to travel for up to 1000 feet.
Road salt can travel around roadsides, residential sites, and so on. It can remove surface waters from conifers and trees with buds.
Therefore, the extracted water fails to deliver the necessary nutrients these plant species need for normal seed growth.
Most flowers and perennials cannot open or experience stunting due to a combination of salt spray exposure and a high salinity level.
Soil-Borne Salt
The main difference between the first damage type and soil-borne salt is the latter accumulates salty residue from melted ice and snow.
Although it develops slower than the salt spray, soil-borne damage may result in more long-term repercussions for most plants and garden conditions.
Sodium chloride evaporates and binds water, thus preventing roots from absorbing water. It may lead to low irrigation and drought-like conditions. 
Sodium blocks the absorption of essential nutrients for your plant and grass species. These include potassium, calcium, and magnesium.
The lack of essential elements may cause insect infestations, wilting on the leaves' edge, loss of green color for the grass, and diseases all over the garden. 
Infographic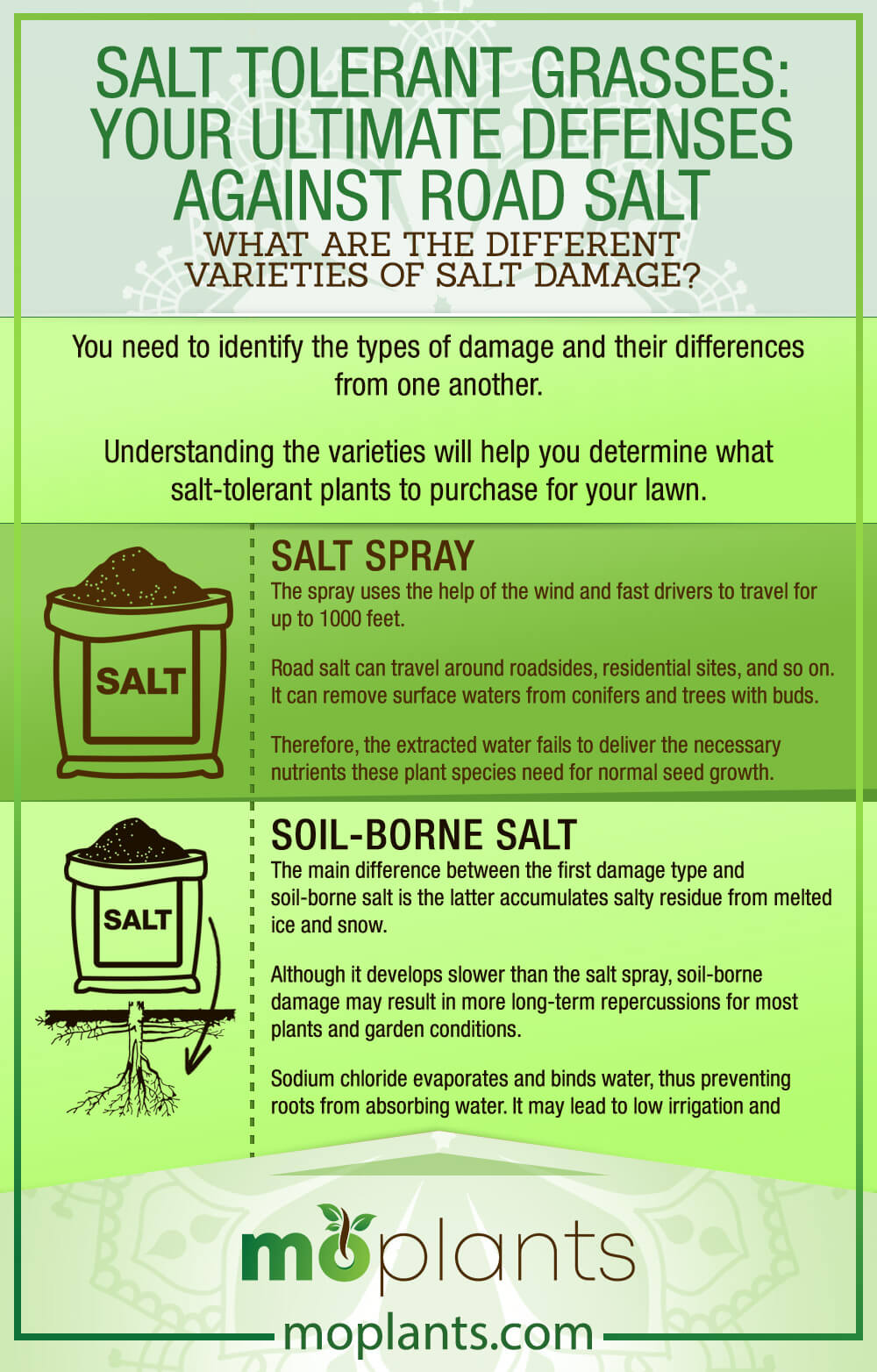 What Are Different Varieties of Salt Tolerant Plants?
Now that we have finished dissecting the information regarding the different types of damage, you should be more aware of how harmful it is for your garden.
Fortunately, there are many grass and plant species with high salt tolerance levels that keep your garden safe.
The choice is yours, but hopefully, you read all varieties closely to check out the differences in compatibility and features.
Butterfly Weed (Asclepias Tuberosa): USDA Zone 4-9
Do you need an all-around plant that outdoes and outperforms the others regardless of location? Look no further by trying out the butterfly weed. [R]
The moderately salt-tolerant species thrive in more extreme conditions like dry land, low-quality irrigation, a rocky landscape, or areas that experience droughts yearly.
However, one significant difference from other grass varieties is that it takes a while for these weeds to fully mature.
Give your butterfly weed around two to three years for it to develop and grow flowers. Also, be sure to water it regularly to get consistent results.
Other than that, you can use it if you are aching for a plant with sufficient salt tolerance levels.
Blanket Flower (Gaillardia): USDA Zone 3-9
How about a plant species that mixes functionality with aesthetic. You have the blanket flower for that.
For starters, you cannot go wrong with its bright red and yellow color combination.
It helps that the flower widely opens its petals for a full bloom. Don't be surprised if some neighbors believe that you use Dr. Seuss references for your home.
All jokes aside, it possesses high salt-tolerant abilities. It also helps survive drought-hit areas, so you won't have to worry if the weather begins heating up during the summertime. [R]
All it needs is a daily water supply for ample moisture, excellent irrigation, and effective germination.
However, the blanket flower doesn't survive in areas with too much water,  so make sure you are not watering too much.
Silver Mound Artemisia (Artemisia Schmidtiana Silver Mound): USDA Zone 4-8
Not to be outdone, silver mount artemisia emerges as one of the plants that have good resistance to sodium chloride. [R]
Don't be fooled by its puffy light green bushes. From the outside, it seems delicate and soft, but it can resist moderate salinity levels.
Are you particular when it comes to designing your garden? The silver mound artemisia has got you covered in the aesthetics department.
It uses its silver-green color to complement the ground and cool colors like blue, violet, etc. 
Apply full sun or partial shade, and you should be good to go.
Russian Saige (Perovskia Atriplicifolia): USDA Zone 5-9
Like most salt-tolerant plants, the Russian Saige holds its own among other varieties in terms of effectiveness and features.
Wildlife will be active in your area with the help of this particular species. The bees and butterflies will enjoy hanging out at their leaves during pollination.
Besides the usual salt-tolerant abilities, Russian Saige is also drought resistant. Therefore, it can survive the warmest days and dryest soils.
If you want new maturation to occur, make sure to cut off the stems during the late winter to early spring months.
The best periods of the Russian Saige development usually take from July to October. 
Infographic

What Are Other Ways to Treat & Protect Your Garden From Sodium Chloride?
Besides planting salt-tolerant plants, here are more ways and options you can use to reduce the chances of sodium chloride harming your garden.
First, try surrounding your backyard with chewings fescue, a grass type that can withstand high sodium chloride concentration levels.
It even provides extra benefits like weed control and better germination. The only disadvantage of chewings fescue is its high price tag, so you may want to think about that before you order.
If you are looking for a cheaper alternative, try surrounding your site with organic matter to come up with a homemade compost for the soil.
These natural supplements are also good enough to combat sodium chloride and improve overall irrigation. It's more cost-effective too.
If all else fails, soak the ground with water of up to six inches to wash away the excess sodium chloride residue, 50 percent to be exact. 
Conclusion
We hope you enjoyed going over salt tolerance grass species and their role in protecting the garden from damage brought about by sodium chloride.
May you practice the necessary measures and buy the best grass varieties to ensure a garden safe from damage, diseases, and infestations.
It pays to use the Google site and online sources to expand your research regarding the differences in salt tolerance levels for all plant varieties.
For questions, inquiries, or other information, please feel free to consult with us.