It could be the Pacific Northwest, Louisiana or Florida. but this entry in the Chelsea Flower Show City Gardens category is a recreation of natural New Zealand in London.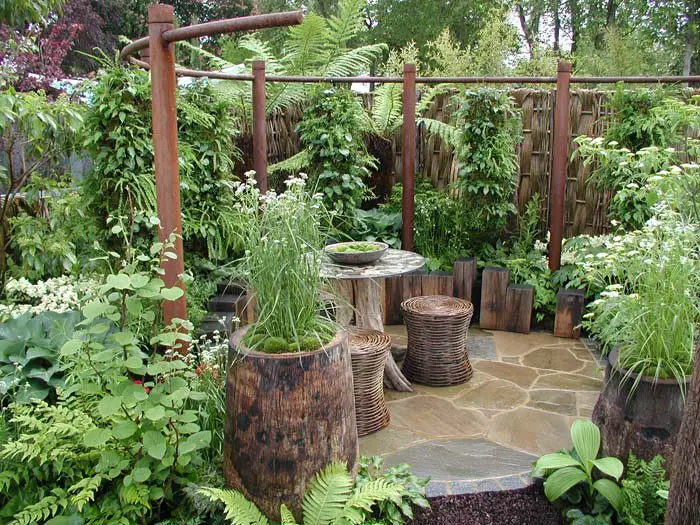 The beauty of this glorious little garden is that it's steeped in green.  It is true that there are more different shades of green that any other color in the spectrum.  No wonder Nature in her wisdom chose to clothe her most plentiful living things in this hue.
Rather than a traditional trellis, this circular bar and simple poles provides a strong support for long hanging baskets that look more like living green columns.  This and the beautifully woven wattle fence create an intimate space without it feeling oppressively enclosed. 
The garden utilises a beautiful palette of materials.  Earth tone flagstone paving is crisp and clean to maximize living space.  Stubby on-end railroad ties or beams allow the planting to be raised up closer to eye level.  Wicker stools demand a minimal amount of space and are easily moved out of the way.  The table created from an old tree stump seems to grow out of the paving.  Ingenious hollowed out logs or palm tree trunks are planted with fine textured grass-like plants centered in lumps of bright green moss.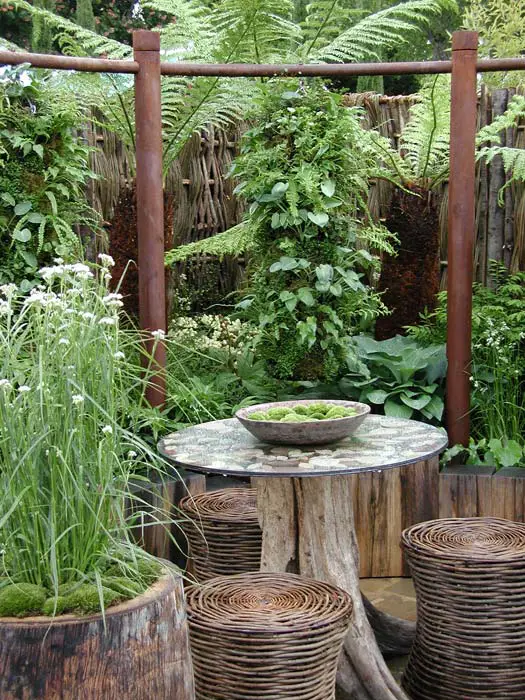 This garden is a perfect blueprint for anyone seeking a primordial get away in a tiny back yard.  Ideas and planting are simple but effective and wholly integrated. 
Click here to see more of the great gardens at the 2006 Chelsea Flower Show http://www.rhs.org.uk/chelsea/2006/index.asp