Vegetable gardening isn't just a fun hobby—it's also the best way to get fresh produce all year round. However, if you don't have much experience, you'll need to brush up on your knowledge of it before getting started.
To help you out, we've listed the 12 best gardening books for beginners below. These will tell you everything you need to know about planting, growing, and harvesting your own vegetables.
Top 12 Vegetable Gardening Books
The Vegetable Gardener's Bible by Edward Smith
Best-selling author Edward C. Smith cultivates almost 100 varieties of vegetables in his home garden that's over 1,500 square feet, so clearly, he knows what he's doing.
In his book, The Vegetable Gardener's Bible, he shares how to grow healthy, great-tasting vegetables in a systematic and effective way.
You'll learn his four key principles—wide beds, organic methods, raised beds, and deep soil—and how these translate to a successful gardening system.
Great for both beginners and more seasoned gardeners alike, this book provides in-depth explanations of all the gardening concepts, theories, and methods you'll need for a vibrant, thriving vegetable garden.
Pros
Accurate and well-written
Provides complete information on vegetable gardening
Detailed descriptions of most vegetables and herbs
Contains extra tips, strategies, and techniques for different situations
Cons
Quite technical
May not be suitable for those with tiny garden spaces
Those situated outside the Northeastern United States may not experience the same conditions
The Year-Round Vegetable Gardener by Niki Jabbour
One of the most difficult gardening challenges is getting through the winter season.
Fortunately, The Year-Round Vegetable Gardener addresses that problem. In this book, Jabbour reveals how to adapt to each growing season—spring, summer, fall, and winter—so that you'll have fresh vegetables to eat even during the colder months.
With helpful timelines, informational charts, and many instructional diagrams for your perusal, this is truly one of the best books if you're struggling with timing your sowing and harvesting periods.
Pros
Provides simple techniques to get the most out of your garden
Helpful tips to protect your garden during the winter
Great information on succession planting
Cons
Not so suitable for those in warm climates
Lacks some technical information
Carrots Love Tomatoes: Secrets of Companion Planting for Successful Gardening by Louise Riotte
One useful technique that may be foreign to most beginners is companion planting.
When you grow specific vegetables together, you can reap numerous benefits such as flavor intensification, improved pest management, and pollinator attraction.
These will help you get bigger, better, and more bountiful harvests for your garden.
Riotte's planting schemes will tell you which crops you should place together and which ones you should spread wide apart for gardening success.
Pros
A great reference point for planning the layout of your garden
A good guide for those who prefer not to use chemical sprays and fertilizers
Cons
Some readers feel the concepts behind companion planting aren't explained so well
Not enough information on vegetable gardening as a whole
Grow Cook Eat by Willi Galloway
Grow Cook Eat is quite different from the other gardening books on this list because it doesn't stop at harvesting the vegetables—it also covers getting the food on your table!
Galloway not only features 50 delicious recipes in this book; he also teaches you how to store and can your vegetables properly to minimize food wastage.
Perfect for those who are interested in both gardening and cooking, this book quickly covers the fundamentals of both so you can make the most out of the fresh produce you learned to grow in your garden.
Pros
2-in-1 book for budding gardeners and cooks
Easy and fun to read
Cons
Readers feel not everything is explained in-depth
Not the best option if you want a complete, technical guide to vegetable gardening
Raised Bed Gardening for Beginners: Everything You Need to Know to Start and Sustain a Thriving Garden by Tammie Wylie
Wylie's book is a specialized guide for raised bed vegetable gardening, which is a great option for those who don't have a yard or want something a bit more compact.
This book takes you through all the necessary steps—constructing a planting box, mixing soil, and selecting the right plants—for a high-yield garden.
It also provides 30 common vegetable and herb profiles to help you know more about their specific needs during the growing season.
Pros
Quick and easy book for beginners
Covers the basic information needed for raised bed gardening
Cons
Lacks more detailed information
Not so suitable for people who don't reside in the United States
Vegetable Gardening for Dummies by Charlie Nardozzi
When a book has the phrase "for dummies" in its title, naturally, you'd expect it to break down the most complex concepts into beginner-friendly explanations.
Fortunately, Vegetable Gardening for Dummies does exactly that. This book doesn't expect you to have prior knowledge of gardening terms, so it's really perfect for beginner gardeners.
As a senior horticulturist and spokesperson for the National Gardening Association, Nardozzi is also a pro at delivering information accurately and succinctly, so you won't have a hard time understanding his words at all.
Pros
One of the best guides when you're starting from zero gardening knowledge whatsoever
Tackles multiple topics related to vegetable gardening
Cons
The information provided may be too basic and general for some gardeners
Let It Rot!: The Gardener's Guide to Composting by Stu Campbell
Did you know that you can transform household waste into nutrient-rich compost for your garden?
In Campbell's book, Let It Rot!: The Gardener's Guide to Composting, he explains the best way to turn trash into organic compost—something that can not only nourish your soil and promote better harvests but also save you a ton of money.
Because this book is both well-written and concise, it's a great choice for gardeners looking to quickly learn more about this specific topic in vegetable gardening.
Pros
A very informational and approachable guide to composting
Easy to understand
Cons
Serves more as a supplementary resource to other gardening books
Not much information on compost tumblers and newer composting methods
The Organic Gardener's Handbook of Natural Pest and Disease Control by Fern Bradley
Organic gardeners typically encounter pest and disease-related problems because they don't use chemical insecticides. However, this doesn't mean that you have to let your garden succumb to them!
Bradley's book is your best bet when it comes to these pesky situations—this problem-solving encyclopedia does not only have detailed directions on how to solve them naturally; it also has over 350 reference photos so you can easily identify the particular insect or disease you're dealing with.
Pros
It's a very comprehensive and effective guide for pest and disease control
All the solutions are safe, organic, and natural
Cons
Serves more as a supplementary resource to other gardening books
Rodale's Basic Organic Gardening: A Beginner's Guide to Starting a Healthy Garden by Deborah Martin
Those interested in organic gardening will enjoy Martin's book, as it is a great reference guide for beginners and more experienced gardeners who want to learn more about this topic.
Since organic gardens require more specialized care methods, gardeners will find a wealth of information in this book on naturally growing their crops besides developing general garden-building skills.
We like that there's a troubleshooting guide at the end of the book as well to help beginners out!
Pros
A great resource for those looking to start an organic garden
Covers the basics pretty well
Cons
Written from a North American perspective
Developed for a niche market
All New Square Foot Gardening, 3rd Edition by Mel Bartholomew
Unlike many gardening books, Bartholomew's book, All New Square Foot Gardening, focuses on getting high-yield results with less space and less work.
In the original, best-selling version, he talked a lot about his unique and simple gardening system, how to successfully apply it to the home, and useful tips and tricks to make the most out of your own square foot garden.
This 3rd Edition covers the basics and more, adding new improvements and options for more flexibility and efficiency while you garden.
Pros
Teaches a tried and tested method favored by many gardeners
A very organized and informational resource material
Cons
Some readers find the infomercial-type language a little off-putting
Field Guide to Urban Gardening by Kevin Espiritu
If you live in the city, you might think you can't start a vegetable garden. Most gardening books assume you have a plot of land available, so it's difficult to use these as resources considering your living conditions as well.
However, Espiritu completely rejects that notion with the Field Guide to Urban Gardening.
This book focuses on space-saving plot designs like hydroponic systems, raised garden beds, and vertical gardening to help out urban gardeners who only have access to small balconies or rooftops.
It's also worth noting that Espiritu offers advice through Youtube and online podcasts too, so you'll have additional resources to supplement your learnings from his book.
Pros
Easy and fun to read
Creatively makes the most out of limited living spaces
Has a lot of useful illustrations and pictures
Cons
Catered to a specific niche market
The Backyard Homestead by Carleen Madigan
This complete guide to homesteading does not only cover growing vegetables in your garden; it also tackles raising animals and keeping honeybees for meat, dairy, eggs, and honey.
Unlike other gardening books, this all-around resource will lead you to the ultimate goal of food self-sufficiency.
Since it's written for beginners as well, the directions for various activities like pickling, drying, and canning are basic, easy to follow, and well-explained.
We like that this opens up a lot of different possibilities for a simple home garden and that it teaches readers how to creatively utilize their living spaces and make them more productive.
Pros
Helps you become more self-sufficient when it comes to food
Touches on a lot of different home activities
Easy to read
Cons
Lacks technical focus on vegetable gardening
Not really a comprehensive how-to guide
Infographic

Things You Need to Figure Out Before Starting a Vegetable Garden
Garden Location
Where you live impacts how your plants grow.
You have to know your growing/hardiness zone, as this will tell you which plants are most suitable for your geographic location.
Whether you live in a rural or urban area also affects your plants' survival. Rural areas usually have wide, open spaces and more sunlight exposure for the plants. Meanwhile, urban areas can be small, cramped, and lacking in natural light.
If your location is not the most conducive for a specific type of vegetable, you may want to consider growing a different one, especially if you're a beginner.
Garden Size
Besides your garden location, you also have to consider the garden size. However, it's always wisest to start small.
As a beginner, it's hard to have too many plants to keep track of, as you'll have a difficult time giving each one the sufficient care it needs to thrive.
To determine the ideal garden size for you, plan a plot that's realistically proportioned to your outdoor space. Think about how many vegetables you and your family will eat on average, so you'll prevent food wastage in the future too.
Garden Type
While most vegetable gardens are directly set up on a flat plot of land, you can also opt for a raised bed, a container garden, or a vertical garden.
Gardeners usually choose one of these three depending on the available space they have and the overall look they're going for.
Raised Bed
Raised beds are boxes made out of any durable, toxin-free material—usually untreated lumber—where you can place your plants.
These are great because you can control the soil you use, and since they're set up a bit higher off the ground, it will be easier to water and care for the plants as well.
Container Garden
On the other hand, container gardens are a little more mobile. These containers for your plants are usually smaller pots, planters, or baskets that can be placed almost anywhere.
They have the convenience and compactness of a raised bed, but you also have more freedom to arrange them however you like.
Vertical Garden
In vertical gardens, plants grow on a vertically suspended panel such as a wall. Here, hydroponics are usually used for their convenience, efficiency, and aesthetics.
Though these can cost quite a bit more than traditional gardens, they're a great option for brightening up small indoor and outdoor urban spaces.
Infographic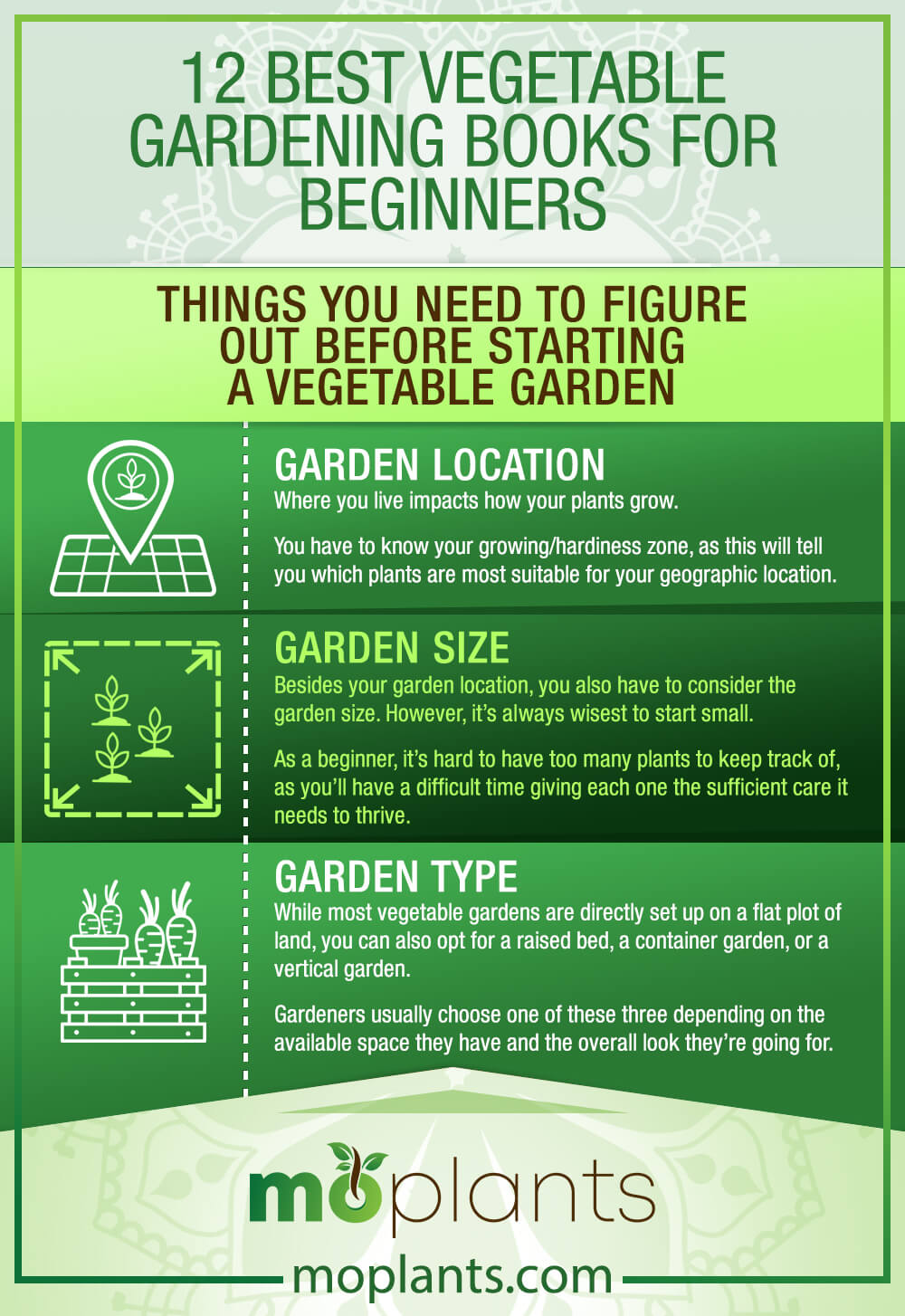 To Sum It Up
Those looking for more modern, urban-suited gardening books will like Kevin Espiritu's Field Guide to Urban Gardening. It adapts a lot of useful concepts to fit smaller spaces, so you'll learn the best gardening techniques for your own unique situation.
Those who want gardening books that take into account harsh winters should pick up Niki Jabbour's The Year-Round Vegetable Gardener. This resource covers all the basics of vegetable gardening, but it also provides useful tips to counter one of the biggest challenges for any gardener—unpredictable weather.
Those searching for all-around books that will answer almost any gardening question should check out Edward Smith's The Vegetable Gardener's Bible. His tried and tested "WORD" method will put you on the right track to be a pro gardener in no time!
Final Thoughts
Though you'll have to do a lot of planning and work before you can have your own thriving vegetable garden, books like the ones above can be valuable resources to make your life a lot easier.
Just remember, with the right knowledge and resources, anyone can be a gardener!